THE SETTING OF OPTIMAL AND REALISTIC GOALS
Creating PLANS to ensure that the OBJECTIVES are MONITORED AND MET.
Our team of financial modellers, data scientists, data engineers, industry experts and software developers deploy planning technologies and methodologies to provide our clients with a comprehensive planning capability that supports critical executive decisions and maximise company value.
Integrated planning, rapid scenario planning, optimization, and automated rolling forecasting ensure the best plans are made and stay valid over time.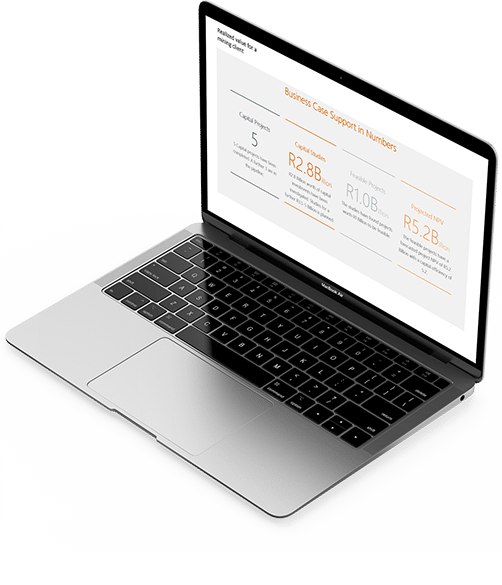 With lengthy project timelines, billions of dollars in assets, and significant sums of money required to sustain and grow a capital-intensive business, identifying the optimal basket of capital investments to maximise shareholder value while mitigating portfolio risk is essential.
Our Qerent Portfolio Optimisation application is designed to address the key challenges surrounding the long-term executive decisions on which investment opportunities to pursue (and when) by providing an integrated, practical, and agile strategic planning capability.
A driver based rolling forecast is integral to agile business planning and are now a critical addition to the traditional approach of using a static annual budget. A Rolling Forecast allows for re-planning throughout the financial year based on changing market conditions or operational realities that must be accounted for, while also providing an initial view of the following year's annual budget the closer you get to the end of the financial year.
Our Qerent Rolling Forecast Application integrates to key source systems and enables a driver-based Rolling Forecast capability for your organisation with advanced analytics, diagnostics, scenario planning, automation and seamless reporting of insights/recommendations.
Very energetic team that is a pleasure to work with.
Planning Science - Anglo American
BSC provided innovative but practical data science solutions that quickly deliver value to your organisation. Their problem solving ability, flexible attitude to technical solutions and ability to work globally are unrivalled.
Planning Science - Anglo American
"BSC's Qerent platform was instrumental in shaping our decision to move ahead with this new leaching technology. We had an understanding that copper recovery was improved, but Qerent allowed us to see clearly the opportunity for both copper production and cash flow in a planning platform that easily allows for modifying input assumptions. Better information, easily obtained, made for confident decision-making."
Planning science - Capstone Mining Corp
Positive strong systems and employees with huge flexibility. The consistent application of calculation and rules
Planning science - Sibanye-Stillwater
The BSC team worked really well with the Tyme team and ensured that there was alignment throughout the project. With constant feedback, and a good understanding of the business, they delivered a quality output.
Planning science - Tyme Bank Limited
The exceptionally talented BSC team brought together business, management and technical skills to translate business insights to into a robust analytical model to reveal the real drivers that influence liquidity.
Planning Science - Anglo American
INTERESTED IN OUR
PLANNING SCIENCE SOLUTIONS?
TRUSTED BY
TOP BRANDS, GLOBALLY
For the past 20 years, BSC has mastered the application of analytics and smart technology to increase business performance.